The Take Out Diet - Dr Hugh Butler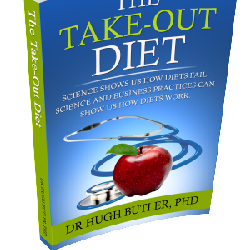 Short Chapters
This book of 350 pages has 53 short chapters. You can read a chapter a day with ease.
Excellent Scientific Understanding
Dr Butler is a scientist, a biochemist, but he had not worked in science in recent years. To prepare to write this book he had to read hundreds of scientific papers, in a field that was unfamiliar to him. He explains the science in a way that people without his training will usually understand.
Very practical - Doable suggestions
There are a few easy things to do, that any sensible person interested in personal health will choose to do. This is the "low hanging fruit" involving easy decisions, each decision involves taking something out of your daily diet. Hence the book title "The Take-Out Diet."
Step by Step Dietary Improvement
When you understand the science behind nutrition, you may choose to do some things that are slightly more ambitious. You don't need to get your diet perfect immediately, you can get there step by step, as your knowledge grows.
Ketogenic Diet one of many possibilities.
Dr Butler is confident that with the assistance of his book you will find a diet that you can sustain, and which improves your daily health. This has the potential to add years of wellness to your long life. Butler doesn't recommend a ketogenic diet, but that's one of the options he opens for you.
---